ILS [Bermuda] Ltd. announced that Dr. Marshall Shepherd, Dr. Parag Khanna, and Dr. Shalini Vajjhala will be the keynote speakers for the Bermuda Convergence 2020 on October 6th to 8th.
A spokesperson said, "ILS [Bermuda] Ltd., organisers of Bermuda Convergence 2020, today announced that Dr. Marshall Shepherd, Dr. Parag Khanna, and Dr. Shalini Vajjhala, will be the event's industry keynote speakers on October 6th to 8th. The latest market insights will take place in a new fully-digital format during the virtual event. Over 500 attendees from all over the world are expected to join the popular annual networking event.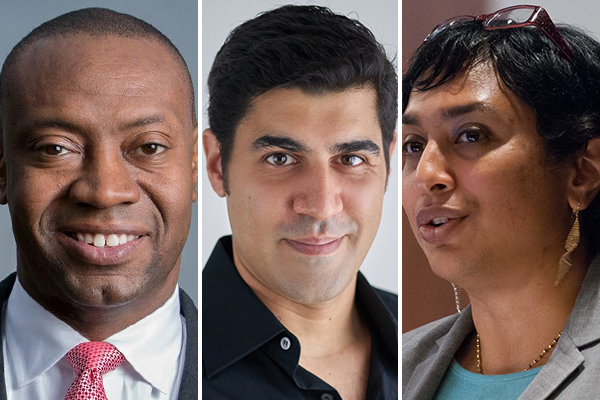 "Dr. Marshall Shepherd currently chairs the NASA Earth Sciences Advisory Committee and was a past member of its Earth Science Subcommittee of the NASA Advisory Council. He was a member of the Board of Trustees for the Nature Conservancy [Georgia Chapter], National Oceanic and Atmospheric Administration [NOAA] Science Advisory Board, Atlanta Mayor Kasim Reed's Hazard Preparedness Advisory Group, a member of the United Nations World Meteorological Organization steering committee on aerosols and precipitation, was on the 2007 Inter-governmental Panel on Climate Change [IPCC] AR4 contributing author team, and the National Academies of Sciences [NAS] Panels on climate and national security, extreme weather attribution, and urban meteorology. Marshall is a past editor for both the Journal of Applied Meteorology and Climatology and Geography Compass, respectively.
"The keynote speaker scheduled for day two is Dr. Parag Khanna – a leading global strategy advisor, world traveler, and best-selling author. He is Founder & Managing Partner of FutureMap, a data and scenario based strategic advisory firm. Parag's newest book is The Future is Asian: Commerce, Conflict & Culture in the 21st Century [2019]. He is author of a trilogy of books on the future of world order beginning with The Second World: Empires and Influence in the New Global Order [2008], followed by How to Run the World: Charting a Course to the Next Renaissance [2011], and concluding with Connectography: Mapping the Future of Global Civilization [2016]. He is also the author of Technocracy in America: Rise of the Info-State [2017] and co-author of Hybrid Reality: Thriving in the Emerging Human-Technology Civilization [2012].
"Parag was named one of Esquire's "75 Most Influential People of the 21st Century," and featured in WIRED magazine's "Smart List." He holds a Ph.D. from the London School of Economics, and Bachelors and Masters degrees from the School of Foreign Service at Georgetown University. He has traveled to nearly 150 countries and is a Young Global Leader of the World Economic Forum.
"The closing day of the virtual event will feature Dr. Shalini Vajjhala who is Founder & CEO of re:focus partners, an integrated design and finance firm dedicated to developing resilient infrastructure solutions and innovative public-private partnerships for communities around world. Prior to starting re:focus, Shalini served as Special Representative in the Office of Administrator Lisa Jackson at the US EPA, where she led the US-Brazil Joint Initiative on Urban Sustainability; EPA Deputy Assistant Administrator in the Office of International & Tribal Affairs; and Deputy Associate Director for Energy & Climate at the White House Council on Environmental Quality.
"Shalini joined the Obama Administration from the economics think tank Resources for the Future, where she was awarded a patent for her climate adaptation mapping work. Shalini received her PhD in Engineering & Public Policy and B.Arch in Architecture from Carnegie Mellon University. She is currently a non-resident senior fellow with The Brookings Institution and a co-founder of The Atlas Marketplace."
Kathleen Faries, ILS Bermuda Chair, said: "On behalf of ILS Bermuda and the Convergence Committee, we are pleased to announce our keynote speakers for this year's virtual event. We hope you are excited to hear these diverse and interesting perspectives. One of our goals for Convergence this year is to deliver opinions and insights from people we don't normally hear from, but who bring important perspectives on the challenges and opportunities our industry faces."
"ILS Bermuda is excited to host a larger number of delegates this year at the virtual event being held on October 6th to 8th. In the past, over 300 attendees have attended the annual event in Bermuda but with the launching of the new fully-digital platform, the number of attendees is expected to be significantly higher this year. The popular and unique ILS event continues to grow and attract delegates from more than a dozen countries with industry participants in the alternative reinsurance, insurance-linked securities [ILS] and collateralised reinsurance landscape.
"This year's event promises an exciting line-up of speakers and panel session topics including: Climate: Perspectives from Science; ILS and Climate Change; Investing in ILS; Views from ILS Investors and Managers; the alignment of ILS and ESG as well as opportunities in the InsurTech space.
Jo Stanton, Deputy Chair and spokesperson for ILS Bermuda's Thought Leadership and Enterprise team said: "I am thrilled with the quality of our keynote speakers, thought leaders in the latest developments in climate science, climate adaption and global macroeconomic trends. I look forward to hearing their perspectives on the industry, global market influences and the future."